Model: 182 Black
SE/2M0182
UPPER
High quality natural leather, 240 mm high, boot-straps.
LINING
Nonwoven vamp lining material, no lining on bootleg.
TALAN
when quality beyond the price
TOE CAP
Steel Toe Cap, with 200 Joules impact protection.
MIDSOLE
Steel midsole, antistatic insole, comfort insock.
SOLE
Dual-density polyurethane PU-PU: antistatic, shock-absorbing, oil and slip resistant.
OTHER
Convenient anatomical last,individual cardboard box.
SHOE SIZES : 37- 46
TALAN
Rigger Boot you want
Metal or Kevlar midsole 0% penetration
Steel or Composite
Toe Cap with 200 Joules impact protection
Breathable, wear-resistant lining material Mesh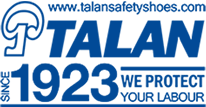 The power of SAFETY